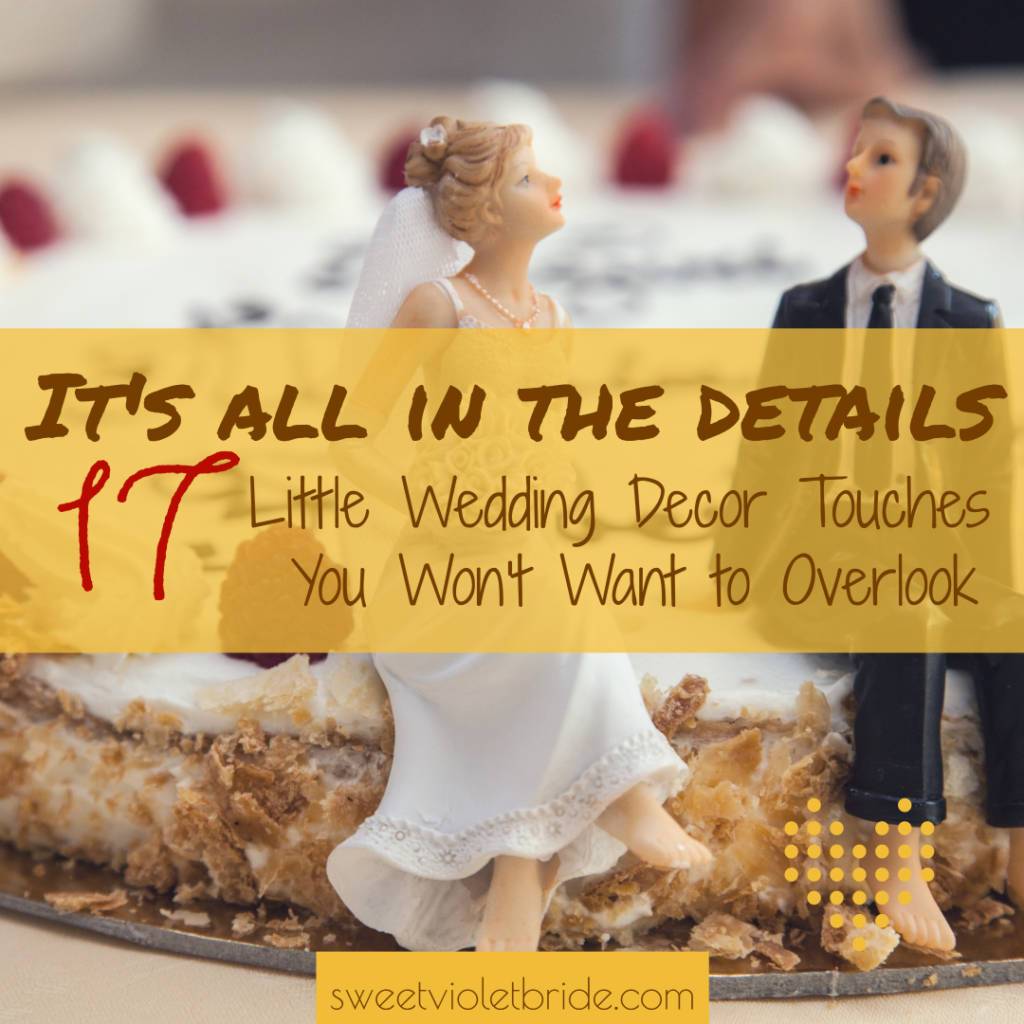 Are you planning out the perfect wedding? If you're thinking ahead about your wedding decor, this list is definitely going to help you out. I've put together seventeen little decor touches that I know you won't want to overlook.
1. Point the Way with Signs
Make themed signage a part of your wedding decor. Even though you've likely been to your wedding venue many times, it might be the first time for your guest. Place signs strategically, pointing the way so that guests can easily identify how to get to the ceremony, bathrooms, bar, or photobooth.
2. Aisle Markers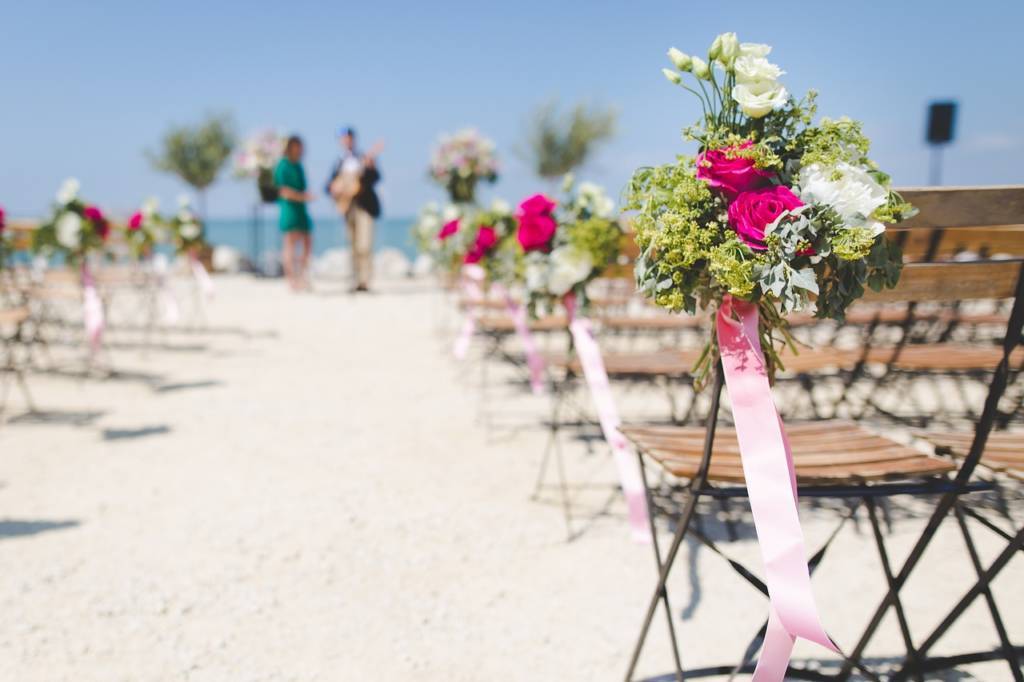 A little touch of color and beauty along the aisle to your alter can go a long way. Use vases of flowers, bows on chairs, or balloons. Get creative!
3. Aisle Runner
You've likely dreamed about your wedding alter. But have you thought about the approach to it? Carpet your aisle with oriental rugs, flower pedals, or sea shells.
4. Pretty Relief Station
The little details that make up your wedding decor are not just about beauty. They can also be functional. An example of this is setting up an aesthetically designed relief station, filled with items that your guests might need during the day. This will depend on your venue. Woodland wedding? Consider providing bug spray. Getting married on the beach? Give your guests access to plenty of sunscreen, water bottles, and fans.
5. Handkerchiefs for Guests
When you kiss your beloved, after saying your vows, you can bet guests are going to be shedding happy tears! A stylized box of handkerchiefs at the entrance to your ceremony is a thoughtful decor touch that you don't want to overlook.
6. Cocktail Decorations
Have you planned out the perfect signature his and hers cocktails? Don't forget to dress them up a bit with garnish, stirrers, edible flowers or something else special. This little touch should go with your wedding theme.  For example, if you're having a beach bash, you could include a little umbrella in each cocktail.
7. Custom Wine Labels
Order customized wine labels for your wedding day. That way, you can make sure the bottles go perfectly with your wedding theme, and that the colors match your chosen color palette.
8. Sweetheart Chair Dressings
Take some time to design a special chair dressing for your sweetheart chairs (the chairs that you and your partner will sit at, during the wedding reception).  If you're using chair dressings on all of the chairs in your reception venue, simple use the same design but up-level it, to make it look extra special. Add signage, flowers, or beautiful fabric. You are the guests of honor, after all!
9. Place Setting Accents
Whether you're having a casual family BBQ reception, or a formal affair, you don't want to miss the opportunity to delight your guests with your place settings. Give them something pretty to look at, as they anticipate the meal to come.
10. Themed Cocktail Napkins
You could order customized cocktail napkins, or simply purchase some that go well with the theme of your big day. The text on your napkins can help to inspire your guests, and add to the festive atmosphere. Words like love, joy and celebrate can remind guests to smile and enjoy the party!
11. Bar or Buffet Table Garnish
Setting up a bar or buffet table? You're probably tempted to focus all of your attention on the food you're going to serve, and how it will be presented. Remember to also give some thought to the table as a whole. Garnish the table with greenery, ribbons, or another colorful touch.
12. Footwear for Guests: Dancing Shoes
Remember how we said that decor can serve a double purpose? Yes, your decorations should be pleasing to look at. They can also be super practical. No one likes dancing in stilettos! Give the ladies in your life a big gift by providing comfy flats for the dance party portion of your big day.
13. Think like a Kid
If kids are going to be a part of your celebration, you're probably already planning on including some kid friendly entertainment, like crayons, bubbles, or games. Did you realize that this can actually be incoorporated into your wedding decor? Yes! Put crayons in pretty silver tins, tied up in ribbons and bows. Bubbles might be served up in heart-shaped bottles.
14. Bathroom Extras
Instead of leaving the bathrooms out of your decorating scheme, add a few decorative touches to the lavatories at your venue. Just a few little touches here will go a long way. Put out a few pretty bottles of soap, lotion, and hand sanitizing gel. You might also include some first aid items, or stain-removal supplies.
15. Advice for Bride and Groom
Set up a pretty station next to your guestbook or gift table, which will invite guest participation. You could have a box, pen and paper and invite guests to share marriage advice. Or, put out a blank journal and ask guests to share a memory of you and your partner.
16. Cake Table Signage
What are you going to include on your cake table? Of course, you'll need space for the cake (or alternative), plus a cake cutter,  and perhaps a bouquet of flowers and a candle or two. How about also including a framed saying or quote? This can be a really beautiful touch, and will stand out in your wedding photos for years to come.
17. Unexpected Decorative Lighting
One last decor detail to consider is unexpected, extra lighting. Think outside of the box. Maybe you've already lit up your outdoor seating area, but could you also string little lights around a pretty bench that's sitting in the shadows, off to the side? How about floating votive candles in the pool?
I hope you loved this list of wedding decor touches!  Little details can go a long way toward making your big day a dream come true. Create a joyful atmosphere, delight your guests, and create memories that will last a lifetime by paying attention to these thoughtful extras. Which one was your favorite? Leave a comment below.