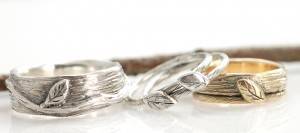 Website: bethcyr.com
Blog: bcyrjewelry.blogspot.com
Contact: [email protected]
Service Areas: Georgia + Online



Beth Cyr specializes in nature inspired custom handmade wedding bands. Each ring is created individually and made to order for the customer, this allows for the ring to be totally customized if needed. All metal is 100% recycled and includes just about any color or karat of gold and several silver and palladium alloys. Custom orders of any nature themed designs can be created at a customer's request.