The warm, handmade details of this wedding strike me as the perfect touch for an intimate celebration in February. These newlyweds used local greenery to bring the outside in, from the bride's own evergreen bouquet, to the tree slice coasters at the place settings.  There is a quintessential charm about a tree themed wedding in Vermont, especially when the groom went to school for forestry! Their wedding glows with a no-fuss, DIY approach and proves that with a little collaboration you don't need to spend an extravagant amount to have a beautiful day. Kathleen of North Photography was there to capture the details of Nick and Megan's wedding.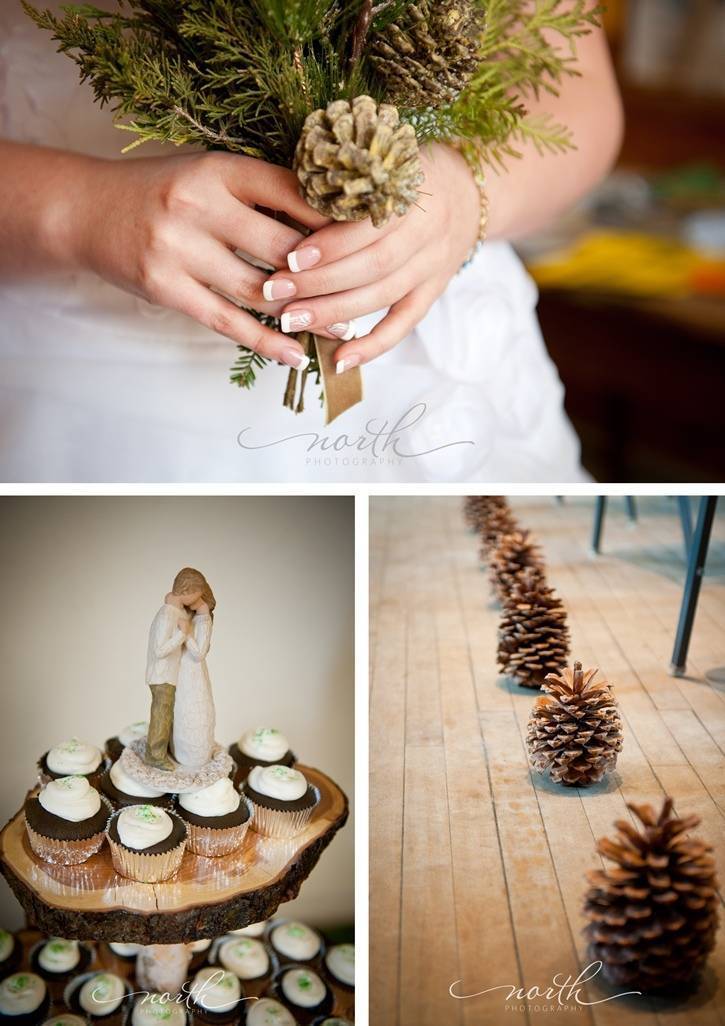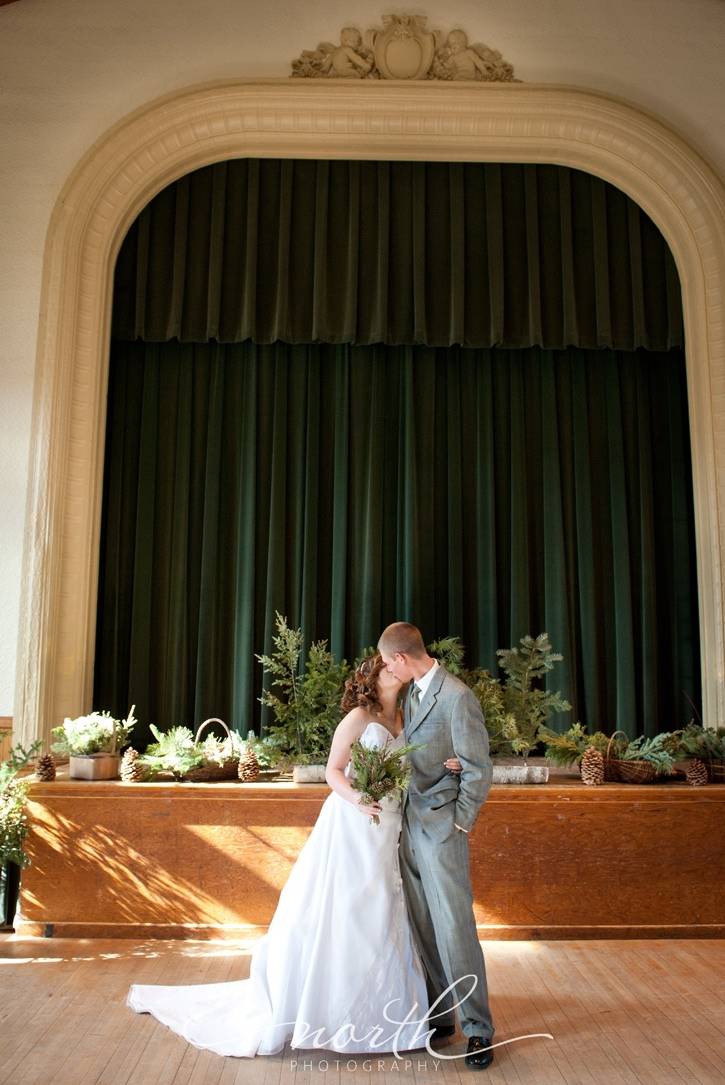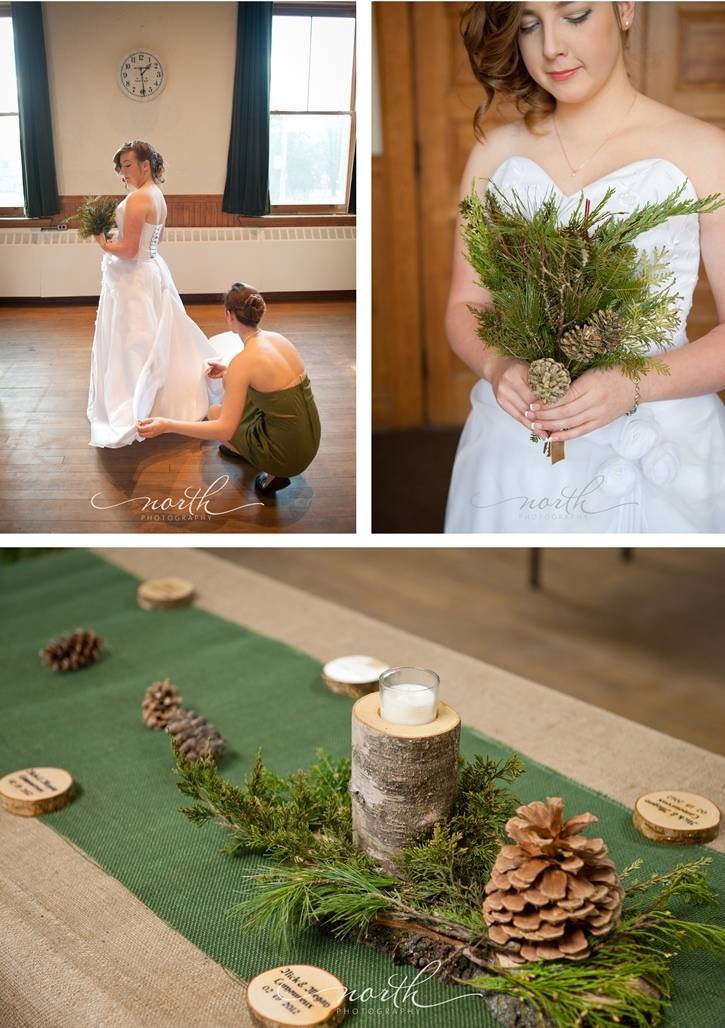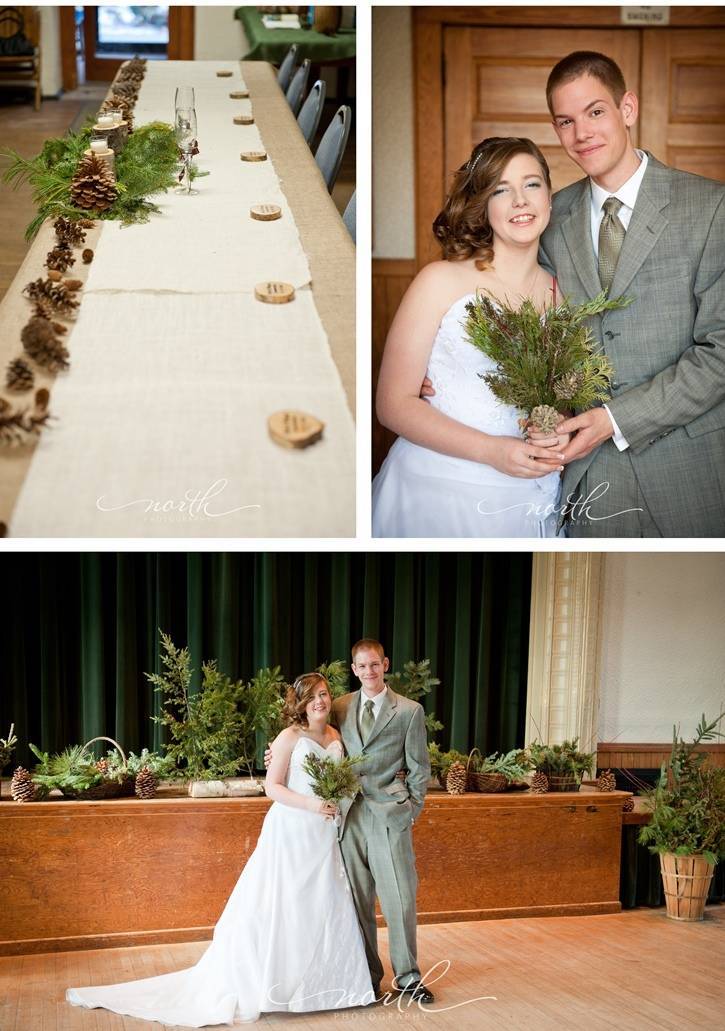 Before the Ring:
We met at Paul Smith's College in the Adirondack Mountains. Nick went to school for forestry and I went to school for Baking and Pastry arts. Paul Smith's offered both. He said it was love at first sight whereas I avoided him until he caught my attention with how caring and wonderful he is.
The Proposal:
Nick proposed to me on Saturday, August 20th and we had just left church in Seabrook, New Hampshire. We were headed to Maine to "check out light houses" and when we made it to our first lighthouse called the Nubble Light House which is right on the ocean, that is when Nick got down on one knee and proposed. I said "Of course," and we both laughed!
Details of the Day:
Our wedding was special because it was very small. We did not have more than 80 people attend and it was a very inexpensive wedding because we did everything by hand. Our wedding favors were mason jars of hot cocoa. Everyone had a good time and it was very nice to see how happy everyone was. Almost everything there was handmade, mostly by Nick's parents. All of the greenery and baskets all were handmade and so were the wood cut coasters on each place setting. It was very special because it was so intimate. I don't want everyone to think it was absolutely perfect; Nick and I could not stop giggling throughout the whole ceremony and when it came time to put the ring on his finger it wouldn't fit so I kept pushing and pushing. I say it is those little things that make it very special.
I made my own cupcakes and purchased a willow figurine for the topper. All of the floral (greenery) was picked and handmade. Making my bouquet was the best way to go when on a very small budget. We did a potluck wedding as well and very little stress came from that. There was more than enough food and so much left over. It was absolutely wonderful. The only other thing purchased, I think, were the enormous pinecones and that was done online.

Photography: North Photography / Bouquet & Arrangements: Bride / Event Planning & Design: Bride / Cupcakes: Bride / Dress: Christine's Bridal