This April, Marina and Jeff tied the knot at the ruggedly charming Leo Carrillo Ranch, in Carlsbad California. Melissa of Ellie Rose Photographie was there with One Two Snap Photography to capture their smiling faces and outdoor ceremony under a gorgeous tree! This wedding is full of style, from Marina's beautiful lace dress to the oh-so-pretty tones of blush pink seen in her bridesmaids' dresses, peony bouquet (love!), her shoes, and ceremony décor. Be sure to read their story below!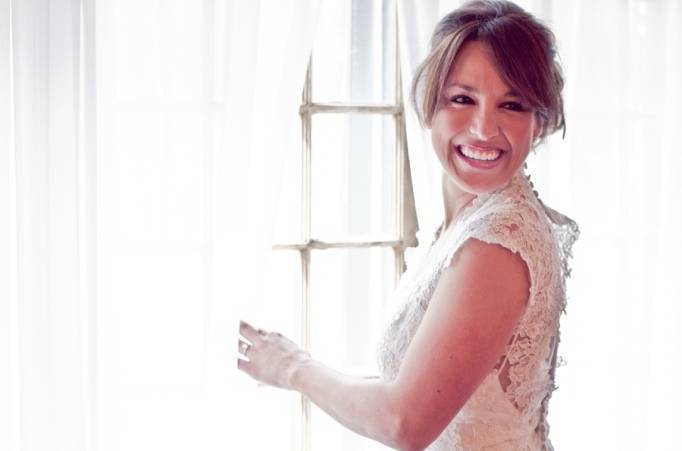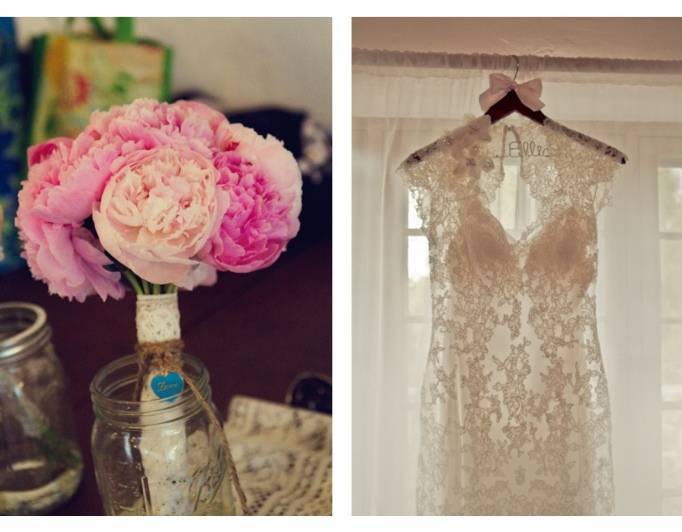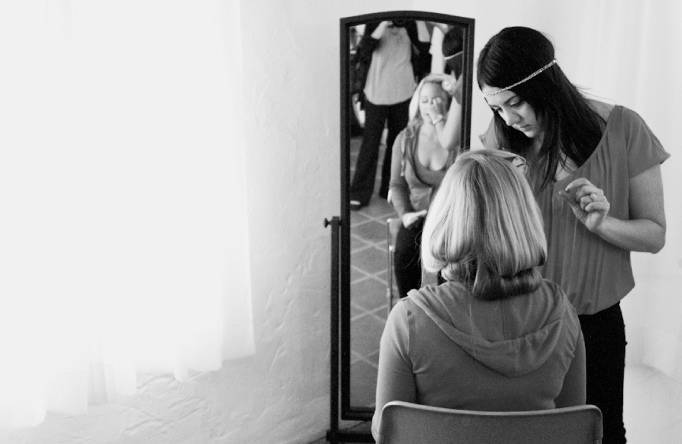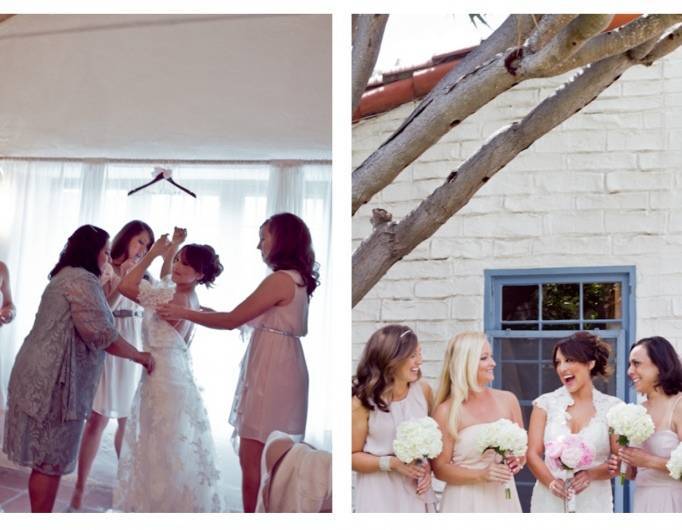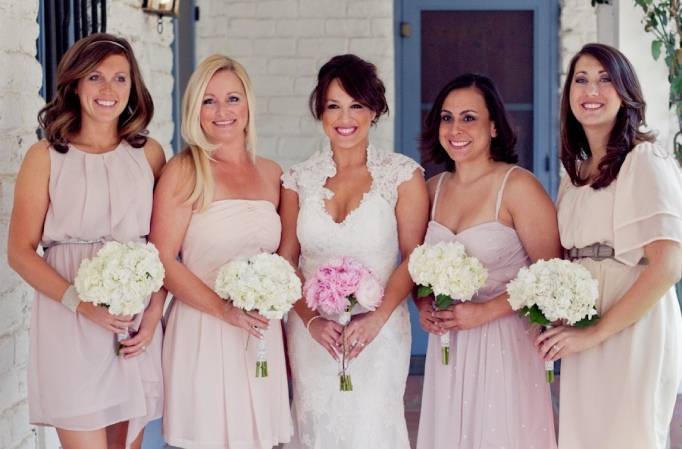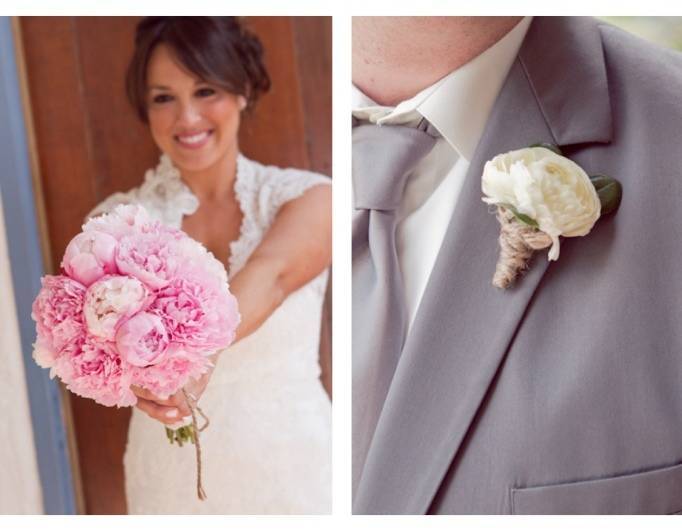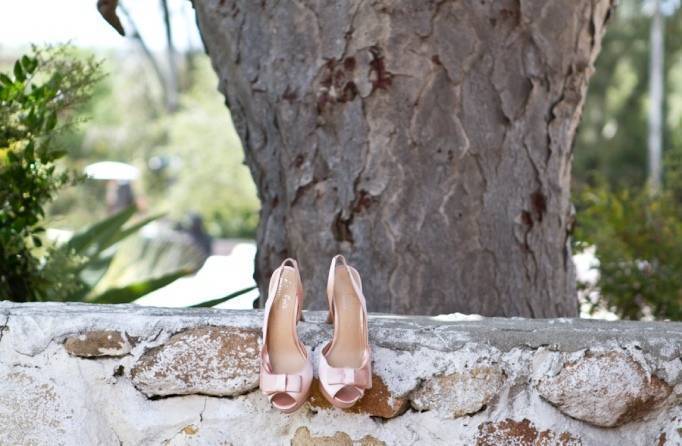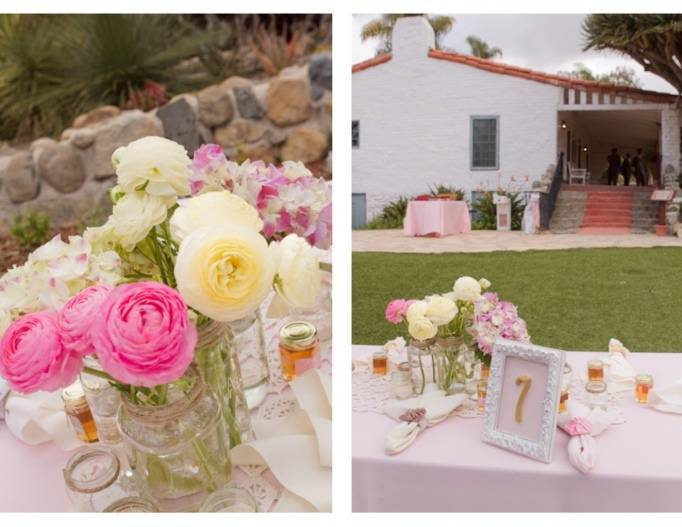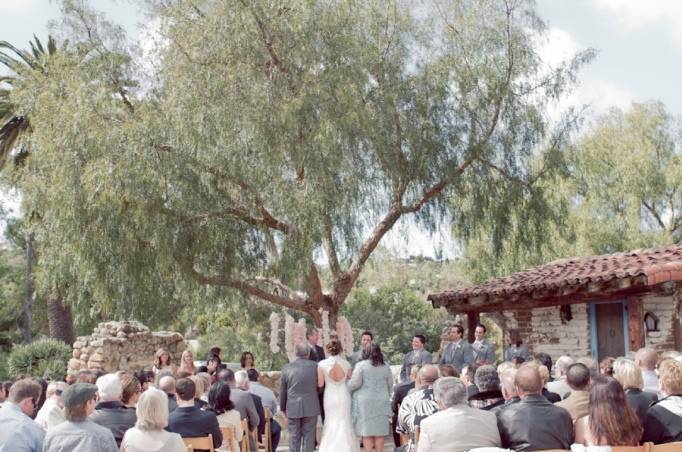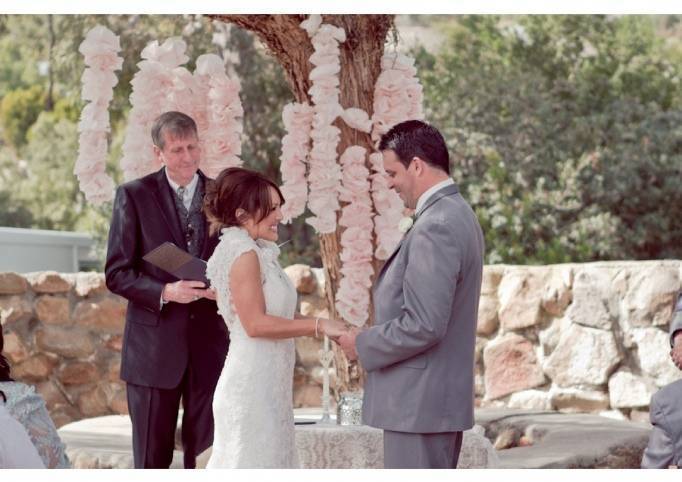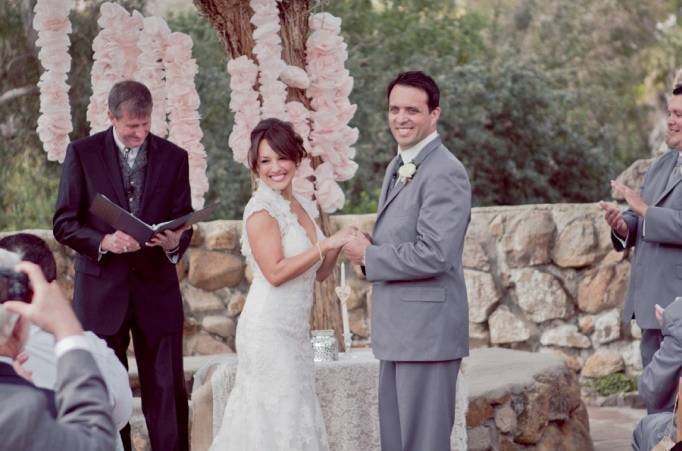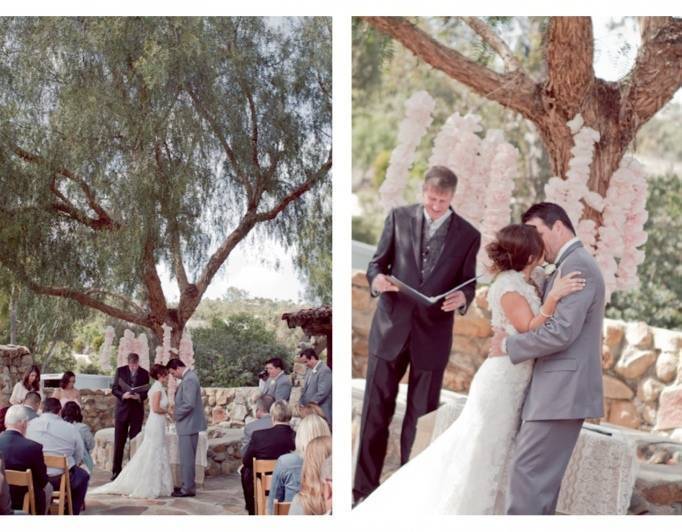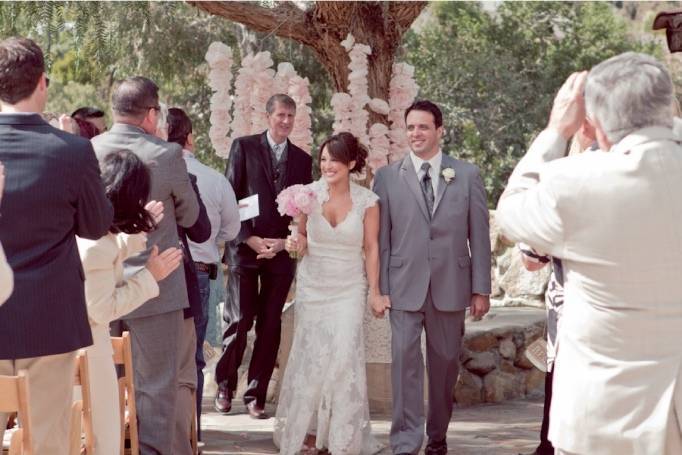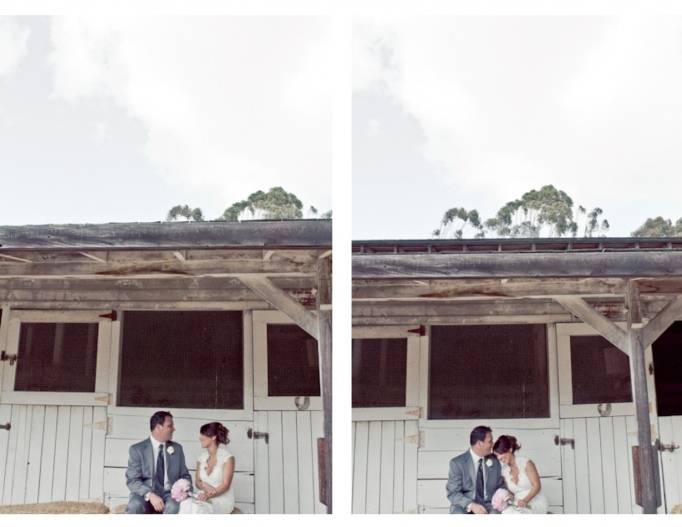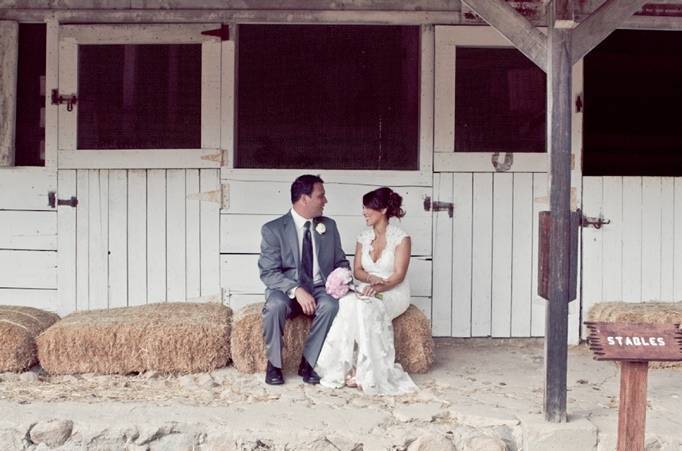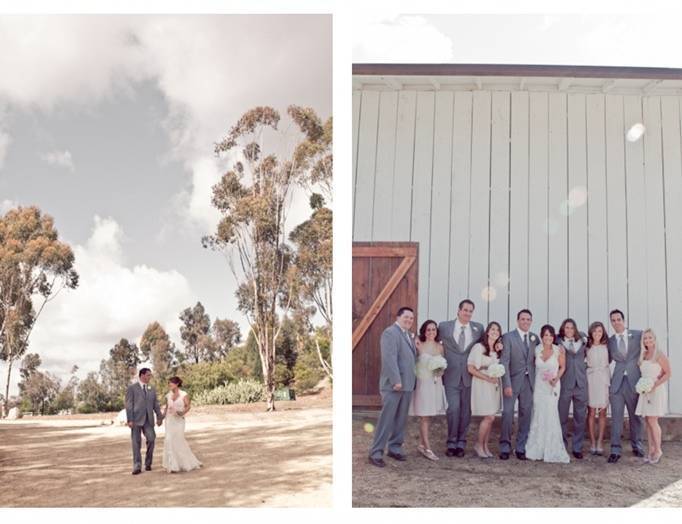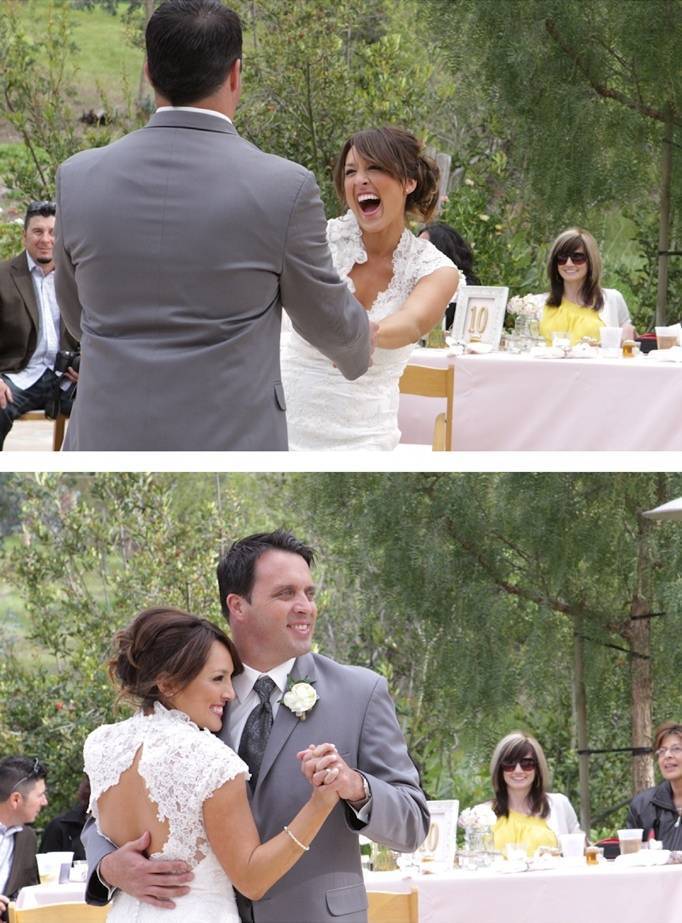 Before the Ring:
Jeff and I met in February of 2003 while working at Robbie's Roadhouse. We both worked Sunday brunch together and slowly became friends. After several years of fun and friendship and the undeniable "more than friends" attraction, we started officially dating in 2007. Now here we are 8 years later getting married and we could not be happier!
The Proposal:
It was Thursday morning at 5 a.m. on January 20th to be exact. Jeff woke me up and told me I had an hour to pack because we were leaving on a trip! I was beside myself, not sure if he was kidding or just crazy, but he insisted I trust him and get up because our flight left at 8 a.m. He told me we were going to New Orleans, a place we've talked about going many times. He expressed wanting to surprise me because we hadn't done anything like this in a while. More impressively, Jeff had already spoken to my boss and got the time off for me! With gratitude and happiness we flew to NOLA. Upon arrival we had a wonderful day, eating and drinking and exploring. On Friday morning we cruised around the town, ate some more and had planned to meet a friend of Jeff's that also lives in New Orleans. The plan was to meet at Jackson Square when he got off of work. As we waited in Jackson Square, Jeff took me to a quiet area and told me he loved me. We hugged and I said I love you too! After that he got down on one knee and asked me to marry him! I was elated and said YES!
After he gave me the ring he told me to "Turn around." Naturally I turned the wrong way so he said, "No, the other way." When I turned around I saw my parents standing there!!! My mom was crying, Drew had photographed the entire moment – I'm crying and Jeff is glowing! His plan had worked. Obviously his friend was not actually coming to meet us, it was them! I was so overjoyed and it was truly the most amazing moment in my life so far! I will cherish the memory forever. Thank you Jeff for being so amazing!

Photography: Ellie Rose Photographie / Also Photographed with: One Two Snap Photography / Venue: Leo Carrillo Ranch / Floral: Moments in Bloom / Dress: from An Affair to Remember / Linens and Coverings: Raphael's Party Rentals / DIY and handmade goods designer (Marina): LuvMadeMeDoIt