So you've found your recycled (maybe even plantable) invitations and an organic caterer, but what about your eco-friendly wedding dress? Pure Magnolia, by designer Patty Nayel, is committed to using sustainable, all natural fabrics to create couture gowns and bridesmaids dresses. Located in Vancouver, British Columbia, Pure Magnolia will work with you to create your dream dress at an affordable price. The following gowns, with gorgeous silhouettes and refined details first caught my attention on Etsy, and you can view even more of their collections at www.puremagnolia.ca. Be sure to read the Q & A below for more on these lovely dresses!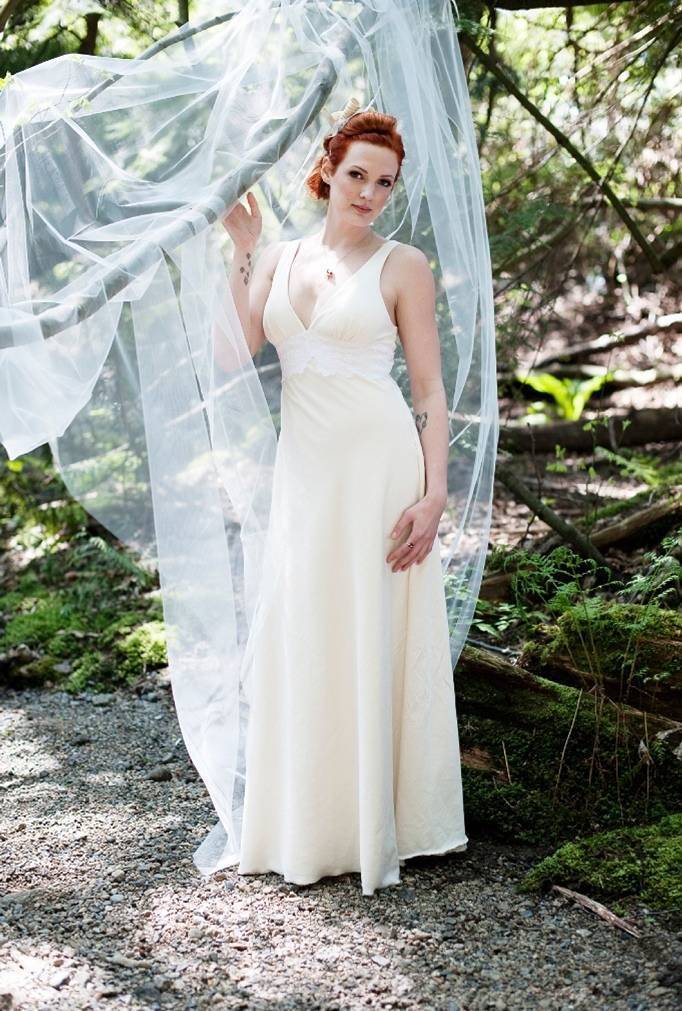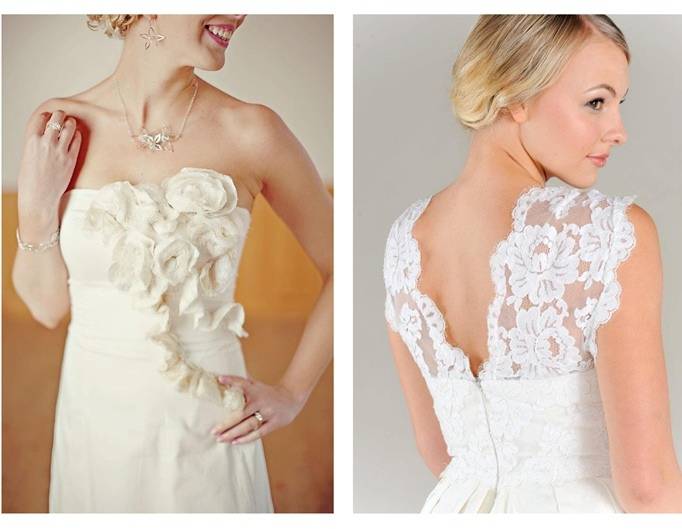 How did Pure Magnolia start?
Pure Magnolia began when the owner Patty, noticed that brides were trying to be more Eco conscious when they planned their weddings. They were serving organic food, and sending recycled paper invitations but there weren't any options for Eco dresses, so she started Pure Magnolia to meet that need.
What is your inspiration?
The inspiration behind every collection is the women who will wear the dresses.  hey come in all shapes and sizes but they all want to look beautiful and they all want to use their wedding as an opportunity to do something good for the planet.
What kinds of brides do you have in mind when designing?
Thing we love most about doing bridal is how different each bride is. We have all kinds of brides and that is probably the most important thing we keep in mind when designing a new line of dresses. We want to have something for a casual garden wedding and something for a cathedral, something for a curvy bride and something for a thin bride. We have brides who get married in sneakers and brides who get married in stilettos. They are all fabulous, and we want to make them all happy.
Anything else you'd like to say?
We use sustainable fabric such as reconstituted silk (silk scraps are gathered up from high end clothing and lingerie manufacturers and turned into new fabric), organic cotton, and reclaimed vintage laces. All of our dresses are made right here in Vancouver. We also take old wedding dresses and turn them into new, modern dresses.  We have even made a few dresses for brides using their mother's old dress. It's fun for us and makes a very special dress.
Photos 1 & 5: Karen McNeil Photography / All others courtesy of: Pure Magnolia