Bright yellow and orange bouquets and a cerulean sky made for energetic and fresh photos by Two One Photography at this mountain wedding. Keely and Tom were married at the breathtaking Devil's Thumb Ranch (they lucked out with the weather!). I love their bold color choices which accent the colors of the natural landscape, the rustic charm of their reception décor (be sure to check out their unique seating chart), and I absolutely adore her cowboy boots! No sore feet at the end of the day for this bride. For more ideas or plans on various elopement packages you should check them out! Happy Friday, Violets. Go forth, and be inspired!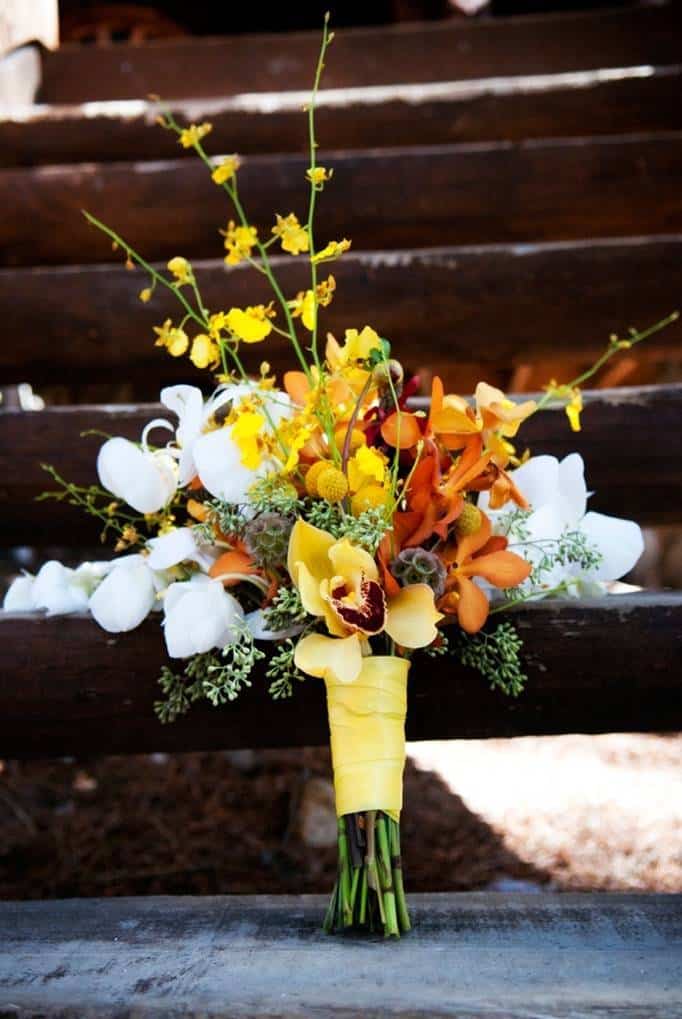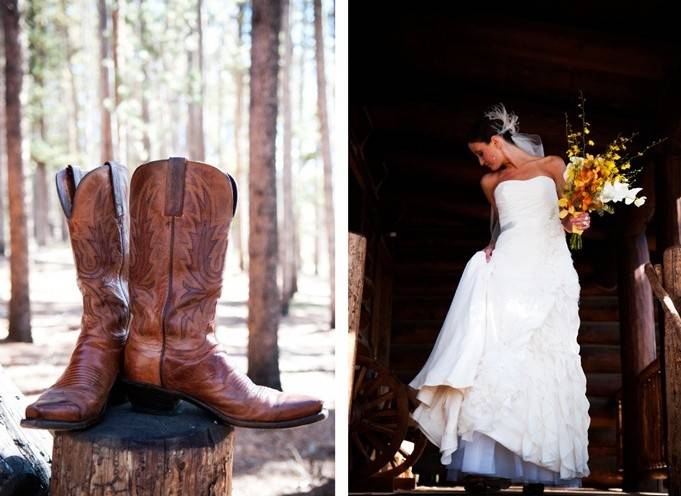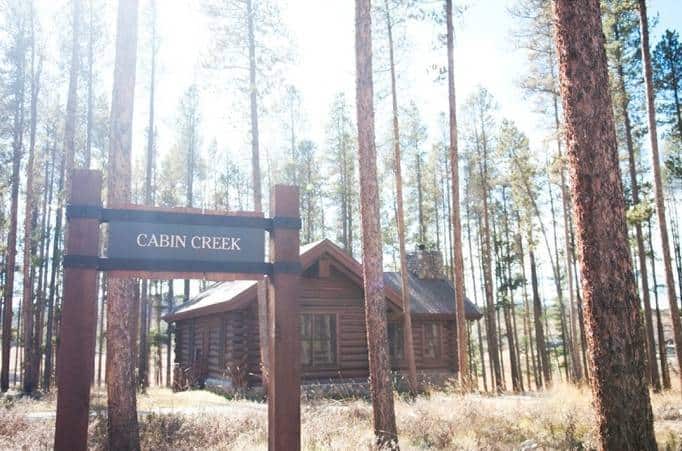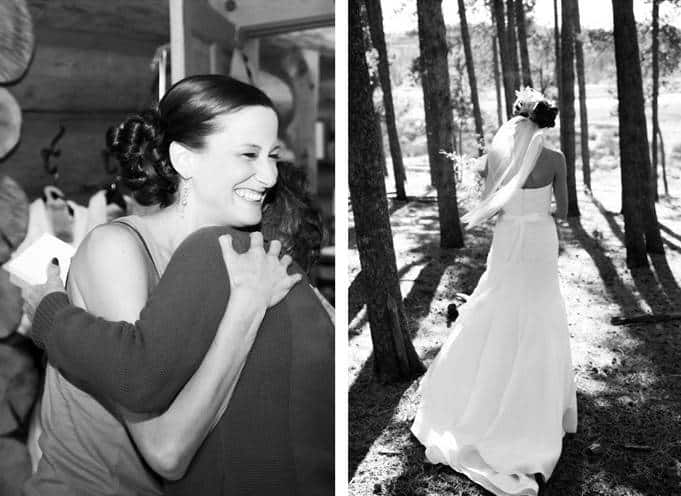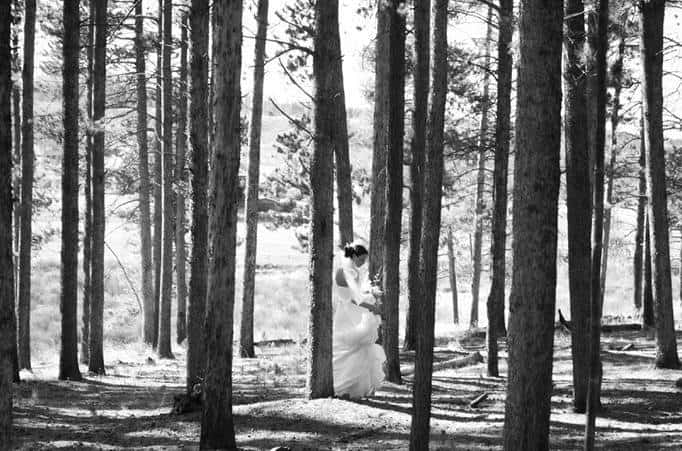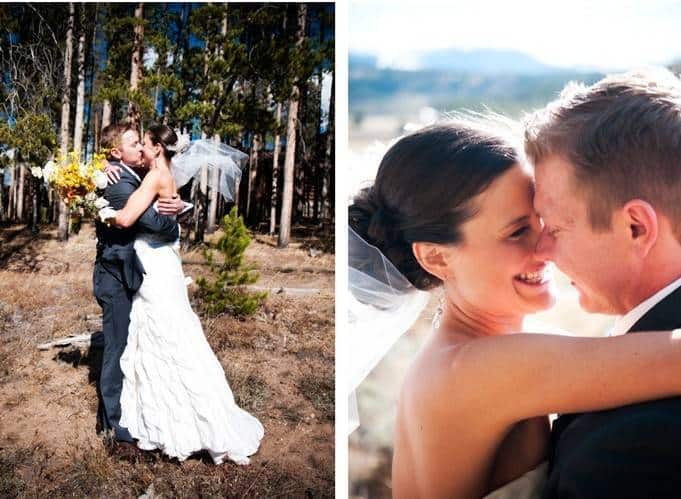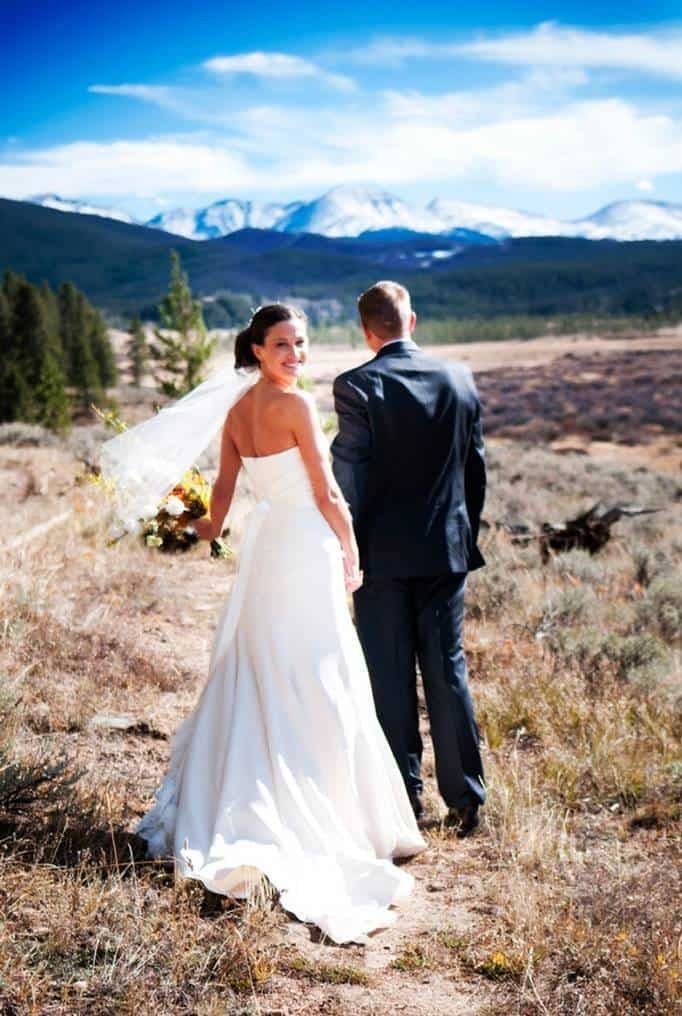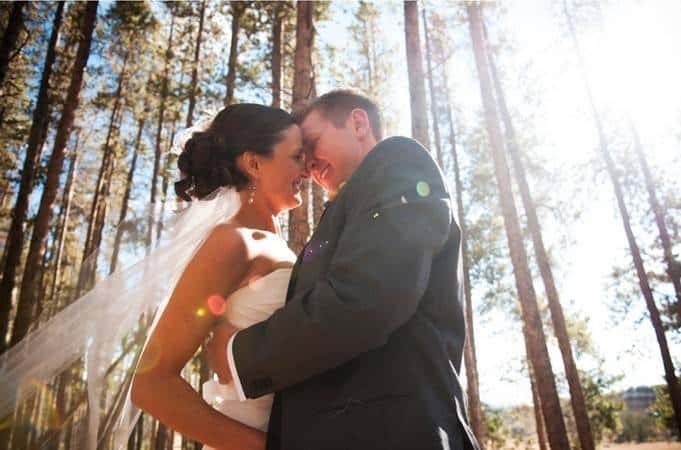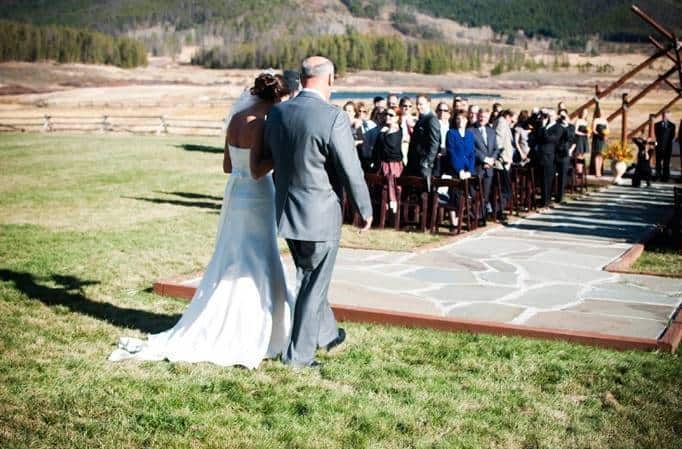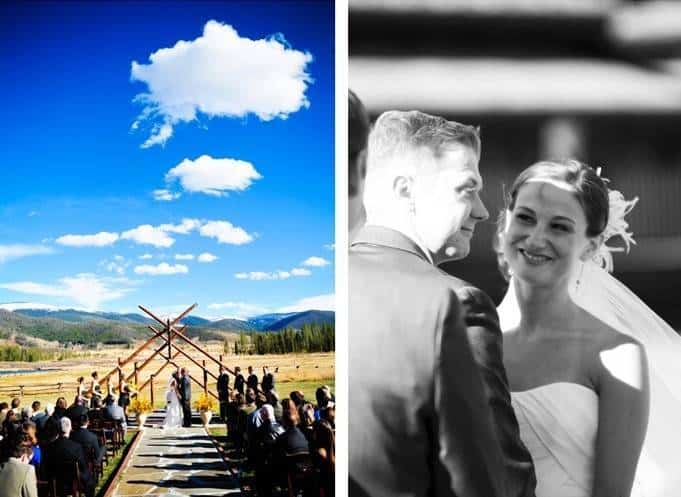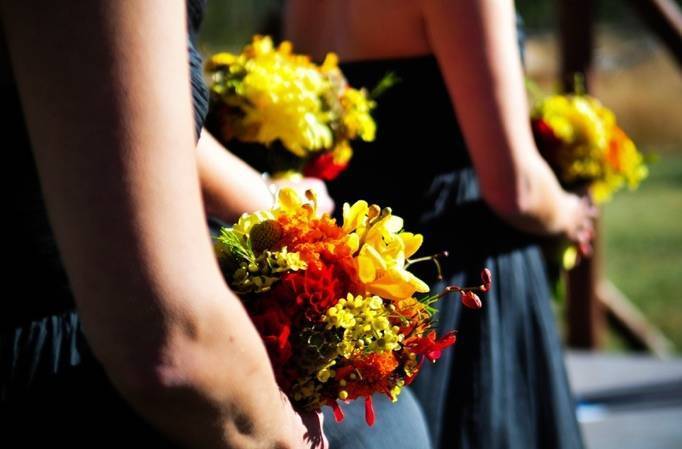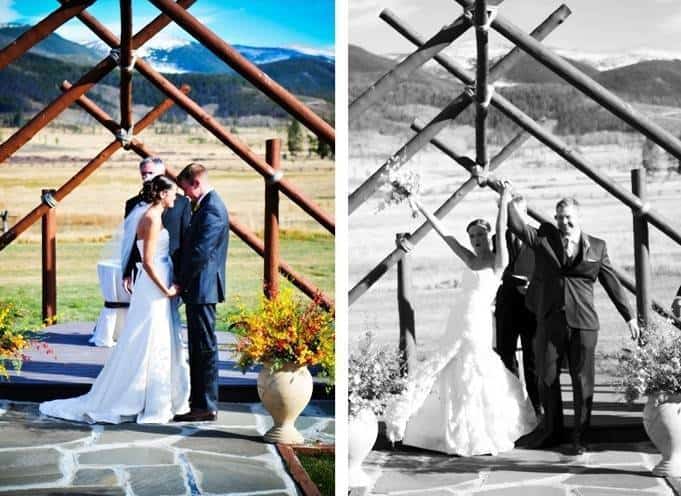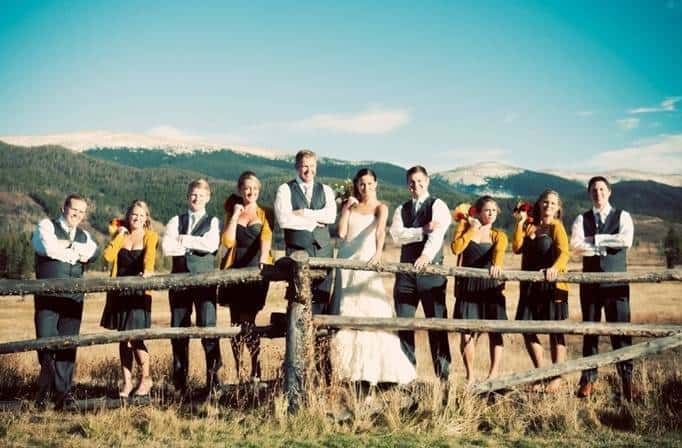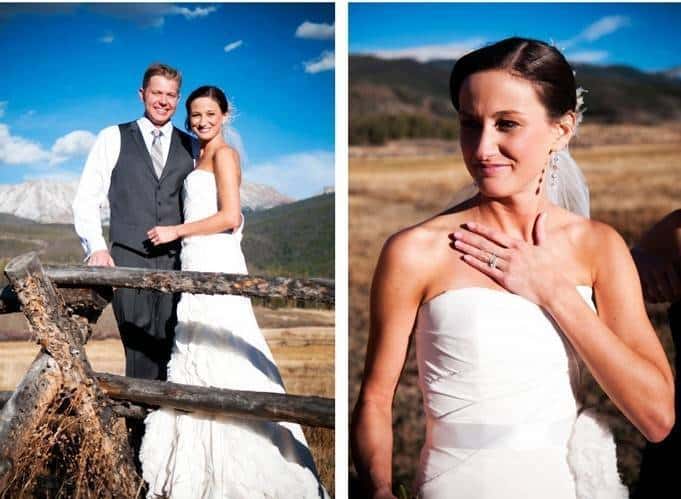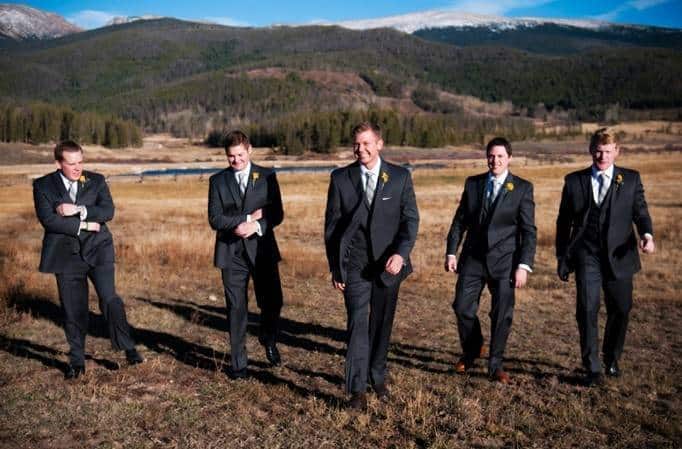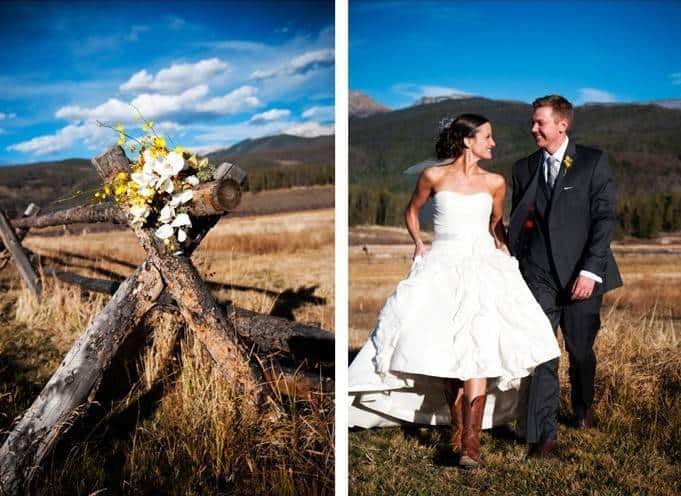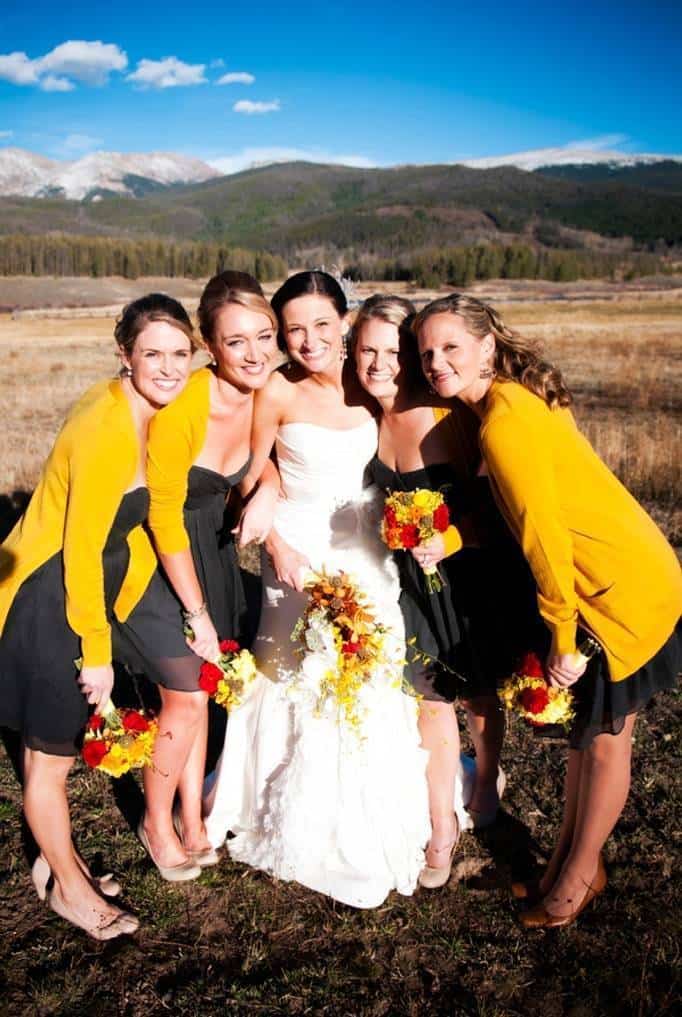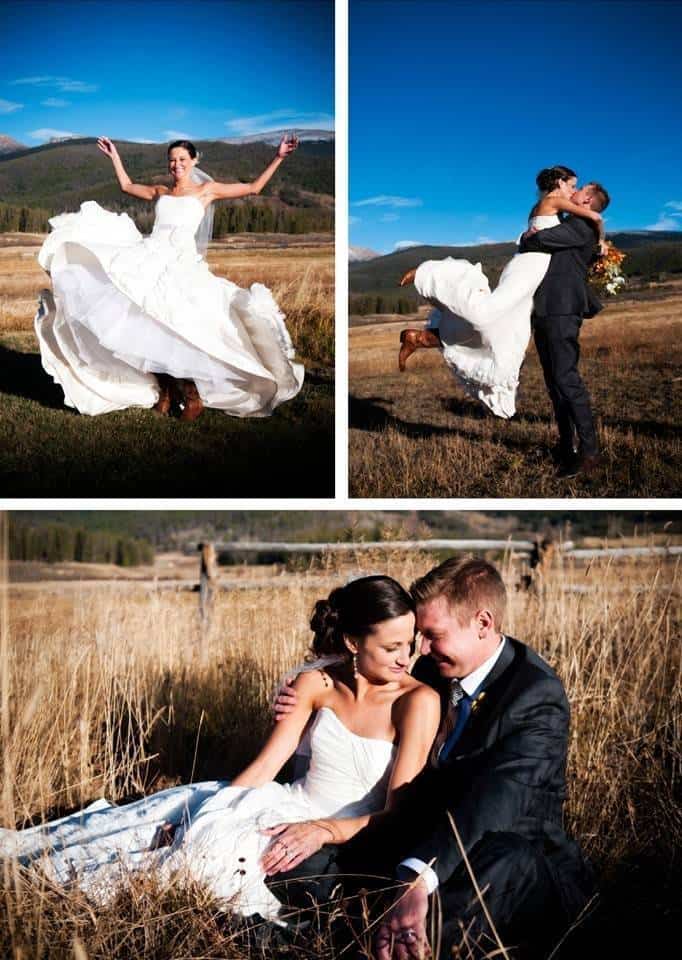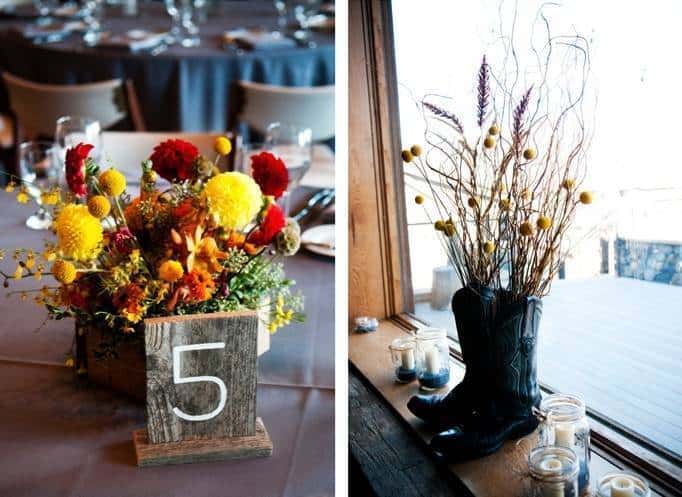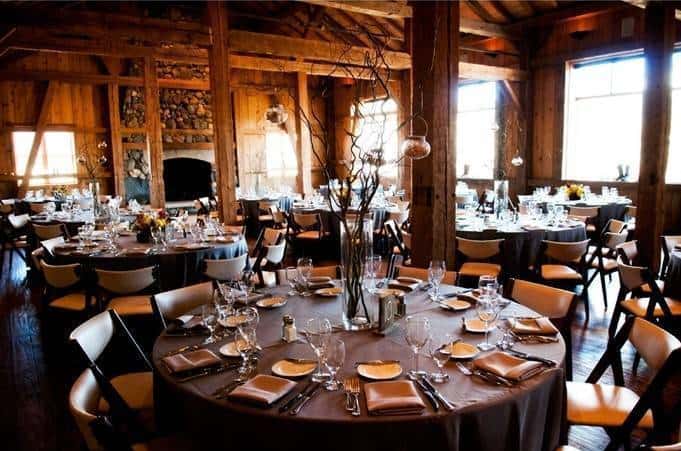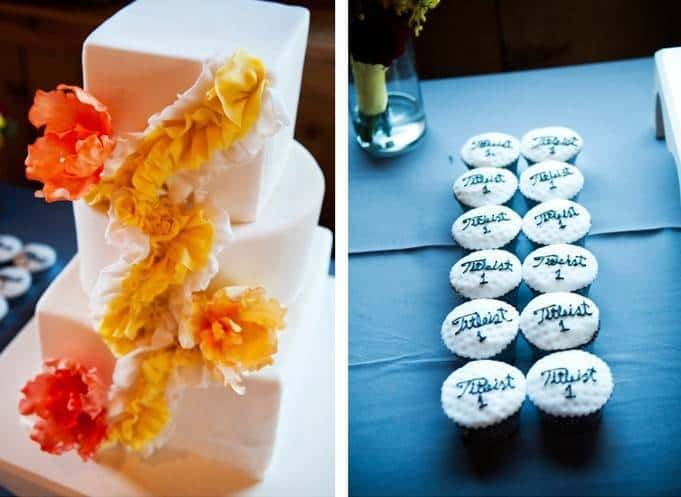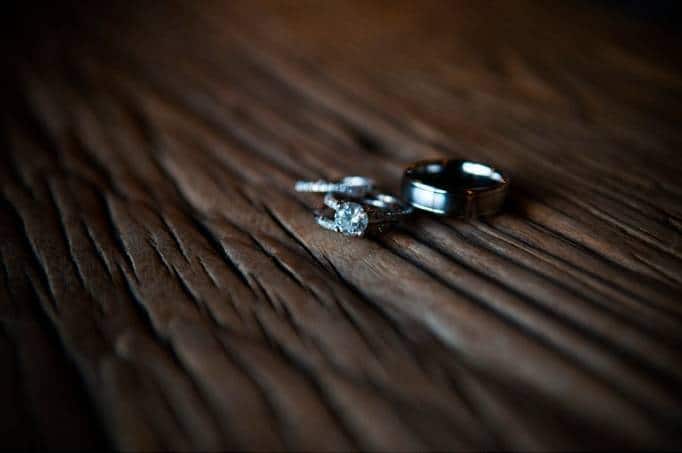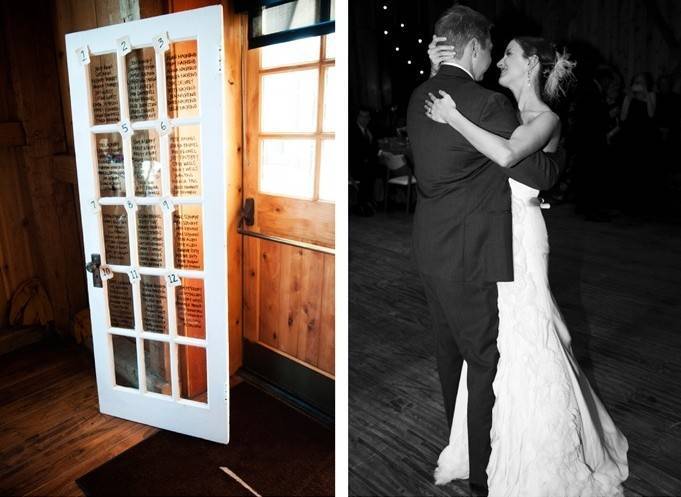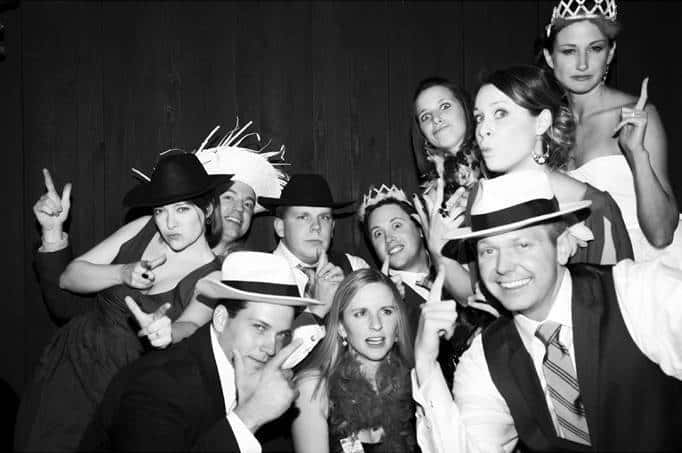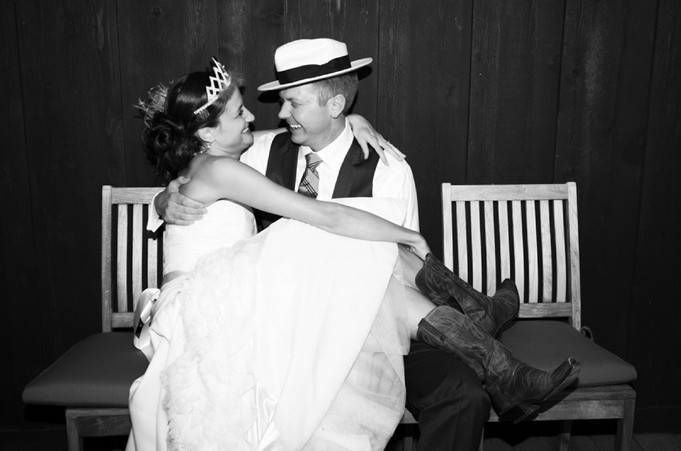 Before the Ring:
I began working at VISIT DENVER in June 2010. A new co-worker of mine, Jen Asbury, invited me to her Birthday BBQ the next week.  I arrived with a good friend and met Jen's husband Brett and her in-laws, Mr. & Mrs. Asbury.  After a crazy story about Mr. Asbury ending up in the hospital after being bitten by a rattlesnake the previous week, their younger son, Tom arrived and Mrs. Asbury introduced us.  We chatted off and on during the evening.  I left fairly quickly, leaving Tom without a chance to ask for my number.  The next day, I received a text from him asking me to dinner that Monday.  I will forever kid with him about asking me out via text.
The Proposal:
We were planning to meet Tom's friends, Jake & Christina, for drinks at The Corner Office in downtown Denver.  Tom insisted on dropping me off at the front door so he could park.  I was really irritated as I never let him do that.  I waited inside alone – no Jake, Christina or Tom.  Finally, Tom arrived and we ordered cocktails. Martini for me, Scotch for him.  I was calming a bit.  Tom stepped away from the bar to call Jake to see what was going on, making sure I was looking something up on my phone before he left (I am terrible with my phone – I miss calls, texts, everything).  I waited – two half full cocktails.  I waited for a long time.  I was getting irritated yet again. I got a text.  "Won't believe what I just found … Come to room 1104."  There was an image of the room number.  The Corner Office is in the bottom of The Curtis Hotel.  I got nervous and excited!  Is it just a special evening?  Is it THE special evening?  I got on the elevator and exited on the 11th floor – The Chick Flick Floor (The Curtis is a boutique hotel with themed floors and a lot of other unique touches).  I turned the corner and there were rose petals down the hallway.  I opened the door and there were rose petals all over the room.  It happened.  Tom got down on one knee and proposed!
Details of the Day:
The weather was a huge question mark in October in the mountains.  The weekend before snowed four different directions and somehow we ended up with sunny and 60 degrees.  It was absolutely beautiful.  We were married outside – bright blue sky with snowcapped mountains and horses in the background.  The colors were fabulous, accented with the groomsmen's charcoal suits and bright yellow boutonnieres.  The bridesmaids wore charcoal as well and carried beautiful yellow, red and orange bouquets.  Devil's Thumb is a venue that makes everything look amazing. The ceremony was officiated by my high school pastor and close friend. He eloquently spoke of marriage, of mine and Tom's relationship and glorified God in the midst of it all.  The ceremony was so heartfelt.  I didn't have a tear available because a huge smile was plastered on my face.  I have just never been so happy.  Tom's grandfather read scripture and my brother, Kevin, read from "The Prophet" by Kahlil Gibran.  It meant so much to us to have them stand at our wedding.  We walked out to the song "Home" by Edward Sharpe and into the reception to the Juno song… (we ran a half marathon the previous year dressed as Pauly Bleeker in Juno).
The reception was incredible!  Toasts from my dad, Tom's brother, my matron of honor and my brother.  Amazing food, close friends and fun dancing.  Tom and I ended the evening by climbing into the policeman's vehicle on patrol that night as he drove us to our cabin.  I wish I had pictures as I definitely had a scotch in my hand.  Something that made the evening incredible for me was that my feet never hurt – I wore my old broken in cowboy boots during the ceremony and the entire evening.  Our favorite moments from the evening were when we walked down the aisle, married, and had our wedding party surround us with a gigantic hug!  10 of us so happy.  There was a slight mix up (my fault!) with when the champagne was supposed to be poured for toasts and Tom and I ended up with about 15 minutes of just us outside while everyone was in the barn for the reception.  It was the best 15 minutes.  We had time to breathe and take in the fact that we were husband and wife.

Photographer: Casey Wigotow of Two One Photography / Venue: Devil's Thumb Ranch / Event Planner: Kara Delay of Love This Day Events / DJ: Ian Brown of Elite DJ / Musicians: Angie Wyatt (close friend of bride) / Bride's Dress: Anna be' / Shoes: Lucchese / Hair & Makeup: Katy Jo Bond of The Parlour Downtown / Bridesmaid Dresses:  J. Crew / Catering: Devil's Thumb Ranch / Cake: Teacup / Florist: Kara Delay of Pick Me Floral / Invitations & Programs: Papyrus / Officiate: Eugene Scott of The Neighborhood Church